Prayer Quilt Ministry
Can you touch a prayer? Can you pull it close and feel its comfort?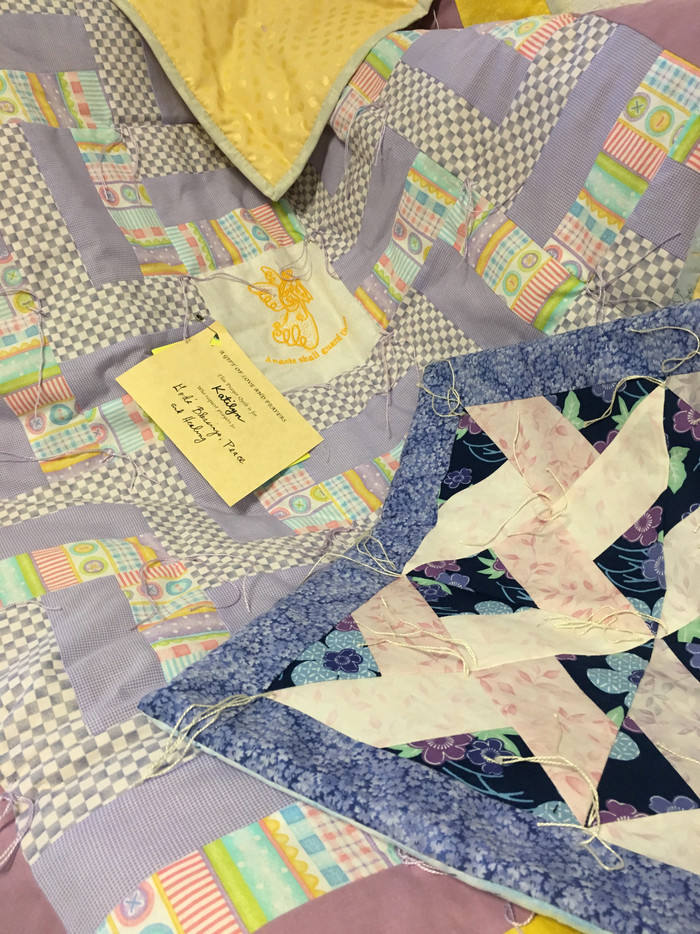 You can if it's part of a prayer quilt or prayer square. The idea behind these quilts and squares is simple, yet powerful. After the quilt or square is made, it is blessed at Mass. After Mass, the quilts are layed flat on tables outside of church. A heavy thread which was used to make stitches through the quilt layers are tied with a square knot by Mass participants. As each knot is tied, a silent prayer is offered for the particular person the quilt was made for, someone in a special need...someone who has asked us to pray for them. The quilt will then be given to that person. Prayer squares are available for emergency needs. What makes each quilt so special is not the colors or the patterns, but the fact that prayers are symbolically tied into each one!
If you or someone you know can benefit from the warmth, comfort and hope that being wrapped in prayers can bring, than they will definitely benefit from a prayer quilt. There are "3 commandments" that we abide by:
Each quilt is a gift of love--there is no price placed on the quilt
The person receiving the quilt agrees to accept the gift of prayer in the form of a quilt
Prayer quilts are all about prayer and not about the quilts
Donations and gifts of fabric are accepted, but before donating fabric, please contact us and select Prayer Quilt Ministry to make sure the type of fabric can be used.
To Volunteer and Join the Ministry:
OLG's Prayer Quilt Ministry, chapter 429 of Prayers & Squares, is made up of many quilters, sewers-but-not-quilters, and non-sewers. It takes many hands and various talents to complete each one. No previous quilting experience is needed! We will teach you as we go along. If you would like to be a part of this special ministry contact us and select Prayer Quilt Ministry or call the parish office at (619) 469-0133 to request a contact phone number.
Please use the below form to order a quilt. 
Prayer Quilt Request Form