FORMED.org - A Gift for You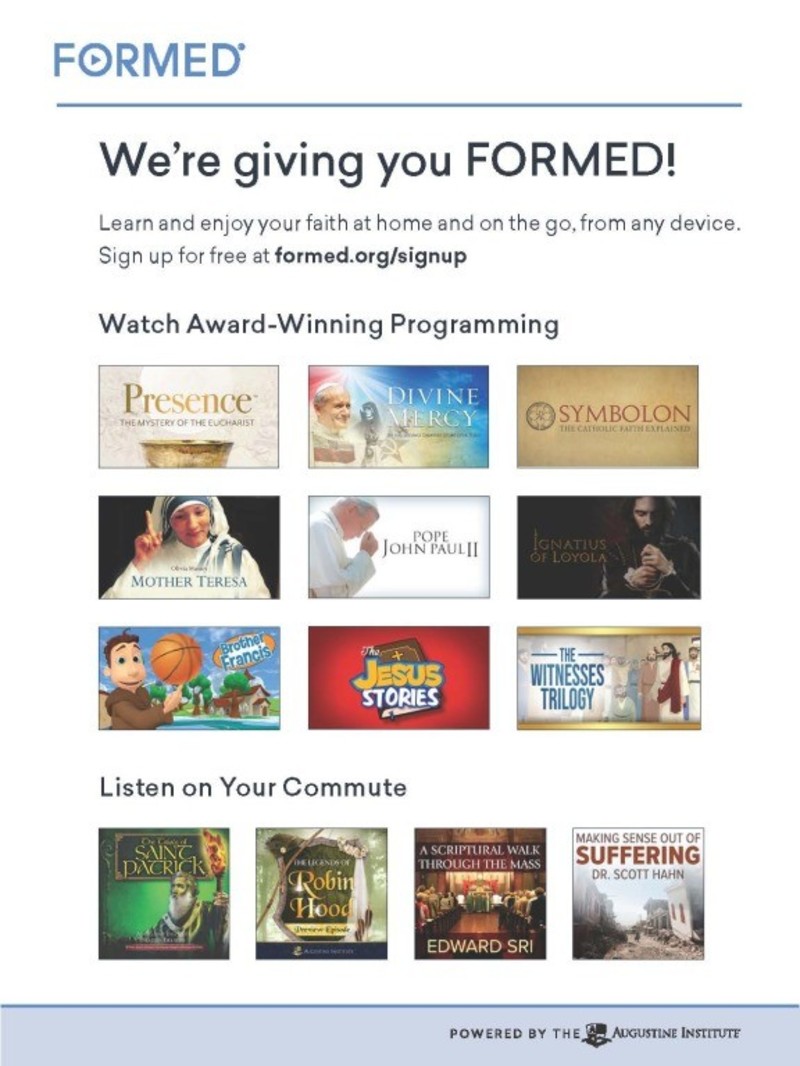 Create Your Account
The parish has paid for your free subscription and it's easy to sign up!
Go to signup.formed.org
Find our parish by name or zip
Register your name and mail address
Check that account for a link to begin using FORMED.
Once you have your FORMED Account:
Visit FORMED.org 
Click the Sign In - no password!
FORMED -- The Catholic Faith. On Demand.
Diving into the beauty of the Faith has never been easier--at home, on the go, or from any internet connected device you can access over 4,000 titles of books, audio talks, movies, documentaries and studies (in English & Spanish!) for every member of your family! 
And the best news is that the parish has already paid your subscription cost. Just sign up and get started watching!
Looking for something for a family movie night? Pick from inspiring movies, including feature films about saints and documentaries exploring popular Catholic topics.
Would you like to know more about our Catholic sacraments? Try "Presence" for Eucharist,  "Forgiven" for Reconciliation, "Beloved" for Marriage and more!
If you enjoy audio, there are lots of choices on all sorts of Catholic topics. "Why do Catholics do that?" You'll find the answers. Just search by topic!
Do you want your children to watch wholesome entertainment? There are live-action and animated programs to keep them engaged while incorporating biblical and church teachings.
No need to wait! Get started now:
FORMED Video