HOW TO SUPPORT YOUR FAITH INDIVIDUALLY AND AS A FAMILY IN THESE DAYS OF PANDEMIC
While regularly scheduled public weekday and Sunday Masses are cancelled in the Diocese of San Diego starting Mon, Mar 16 until further notice, it is important for families and individuals to intentionally maintain and develop faith practices, both sacramental and devotional. Here are some ideas:
- PRAY individually and/or as a family. The Rosary is a perfect prayer that takes about 15 minutes and is accessible to children, teens, and adults alike. To fuel and guide your individua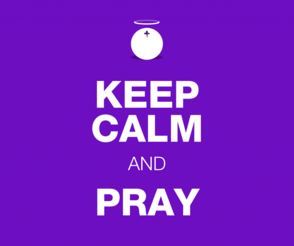 l prayer and meditation, consider a relatively new Catholic subscription-based app called Hallow. In these days of pandemic, the developers have extended their free trial from 7 days to 3 months!
- PRAY the Divine Office, otherwise known as the Liturgy of the Hours. Find the complete Office (plus more!) online at Universalis. For those who would like to use an app, go to iBrevary to learn how to download the app for your Apple or Android device. You can also click here to access iBreviary from our website.
- Contact Fr. McGuine via email (click on the "Contact Us" link at the top of the website) for an appointment to celebrate the sacrament of Penance. An examination of conscience can help you to prepare.
- Don't forget to continue to support your parish and parish school financially. Even though public celebration of the Eucharist will be suspended here at OLG and throughout the diocese as of Mon, Mar 16 for several weeks, ministry is alive and parish life continues: the parish and school offices will remain open, operating expenses accrue, employees need to be paid, those who are hungry need to be helped by way of our Food Pantry, and more! Offertory envelopes or checks can be mailed to the parish office. To support your parish regularly and without the use of offertory envelopes (or make one-time gifts on a weekly, monthly or annual basis), online giving is available and is an excellent option. [Note: Online giving works best with Chrome, Firefox or Edge browsers.]
- Magnificat Magazine is offering complimentary access to the online version of their popular daily devotional publication which includes readings for Mass, Morning Prayer, Evening Prayer, and spiritual reading. Subscriptions (print and digital) usually cost $47.00 per year. For children, there is MagnifiKid! Magazine. Complimentary access is also being made availble by the publisher. Individual subscriptions to this popular mazine for children usually run $34.90 per year. A special Celebration of the Word for Sunday is also available.
- From Liturgical Press, take advantage of complimentary access to the popular daily devotional for Catholics, Give Us This Day. Available online through your Internet browser, digital access via app, or as a PDF file.
- Also from Liturgical Press... Praying Together, Praying Apart: At-Home Prayers for Times of Healing, Illness, and Death is a downloadable resource that offers concrete ways to pray, heal, and grieve together when we are physically apart. The resource includes a special litany intended for the dying, the departed, and the grieving.
- For additional spiritual reading, see the article, Joseph Ratzinger on fasting from the Eucharist recently posted on Catholic World Report.
- The United States Conference of Catholic Bishops (USCCB) publishes the daily readings for Mass each day in both English and Spanish. Watch a video reflection on the readings or listen to them as they are proclaimed by clicking here.
- Alone or as a family, listen to Bishop Robert Barron's homily on the Sunday readings on his Word on Fire website. Bishop Barron is an Auxiliary Bishop of the Archdiocese of Los Angeles.
- Participate in the celebration of the Eucharist by way of livestream or posted video over the Internet:
Diocese of San Diego - Sunday Mass posted on Sun by 6:00 am PT WATCH. Daily Mass posted. WATCH
The Immaculata Parish (USD Campus) - Sunday Mass posted Sat at 7:30 pm PT. Daily Masses posted by 8:00 am PT. WATCH
Mission Basilica San Diego de Alcalá - Sunday Mass posted. WATCH
Diocese of Orange (Christ Cathedral) - Sunday Mass at 9:45 am PT. Weekday Masses at 6:30 am PT. WATCH
Archdiocese of Los Angeles (Cathedral of Our Lady of the Angels) - Sunday Mass at 10:00 am PT. Weekday Masses at 8:00 am PT. WATCH
Archdiocese of Philadelphia (Cathedral Basilica of Saints Peter and Paul) - Sunday Mass at 8:00 am PT. WATCH
Archdiocese of Chicago - Daily Masses (St. James Chapel) at 8:00 am PT and Sunday Masses (Holy Name Cathedral) posted. WATCH
Archdiocese for the Military Services, USA (Main Chapel, Edwin Cardinal O'Brien Pastoral Center, Washington, DC) Sunday Mass at 6:00 am PT. WATCH
Word on Fire - Mass posted daily. WATCH
Fr. Michael Schmitz from the Univ of Minnesotta, Duluth - Sunday Mass at 7:00 am PT. WATCH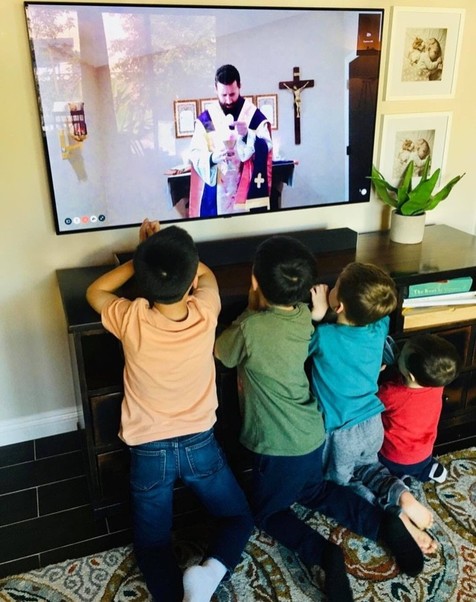 University of Notre Dame (Basilica of the Sacred Heart) - Sunday Masses at 7:00 am PT and Daily Masses at 8:30 am PT. WATCH
Yale University (St. Thomas More Catholic Chapel and Center) - Sunday Mass at 7:00 am PT. WATCH
EWTN - Sunday Masses posted. WATCH Daily Masses posted. WATCH
Catholic Extension - Sunday Mass at 6:00 am PT. WATCH Daily Mass at 2:30 pm PT. WATCH
Heart of the Nation - Sunday Masses posted. WATCH
CatholicTV WATCH
Priestly Fraternity of St. Peter WATCH
"I encourage those of you who cannot come to Mass, to stay home and read the Gospels, pray with your families, and to join yourself to the sacrifice of the Mass by making an act of spiritual communion. There are a number of prayers of spiritual communion that you can use, the one I like is simple: "I wish, my Lord, to receive you with the purity, humility, and devotion with which your most holy mother received you, with the spirit and fervor of the saints."  - Archbishop Jose Gomez (Los Angeles)