Legion of Mary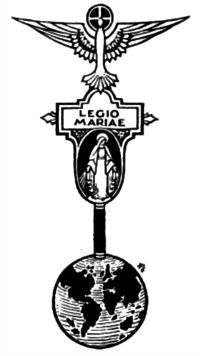 LEGION OF MARY  |  Celebrating 30 years at OLG! 
Legion of Mary was founded at OLG in 1987. 
Mondays, 5:00-6:30pm, Fireside room at OLG. (First Monday of the month meets at 4:30pm and then travel to Little Italy at Our Lady of the Rosary, 1654 State St., San Diego 92101.)
Auxiliary members for Legion of Mary from 1987 on please update or reconfirm your information by contacting Dee at (619) 464-4169.
The object of the Legion of Mary is the glory of God through the holiness of its members developed by prayer and active co-operation. The spirit of the Legion of Mary is that of Mary herself. Especially does the Legion aspire after her profound humility, her perfect obedience, her angelical sweetness, her continual prayer, her altogether spotless purity.

(From the Legion of Mary Handbook)
The Legion of Mary is a world-wide organization directed to the Holy Spirit in the name of Mary.  It is the largest lay organization of the Catholic Church. 
The Legion of Mary serves Our Lady by serving others. We seek to visit the sick, to serve the Body of Christ to the homebound, to spread the word and the joy of knowing Jesus and Mary.  We have opportunity each year to attend a holy retreat at which we "...see clearly the value of souls and be inflamed with the desire of helping them..." (Pope Pius XI).  We pray daily and join each other for a meeting weekly to share our experiences and to pray, especially to pray the Rosary.  
There are two ways of being a member of the Legion of Mary;  Active membership and Auxiliary membership. The Auxiliary members usually are unable to attend the weekly meetings or to perform the active weekly ministries. But we consider Auxiliary membership as important because the Auxiliary members pray daily that the Active members succeed. Active and axiliary members all strive for the humility and purity and profound faith of Mary.
Following her, you stray not; invoking her, you despair not; thinking of her, you wander not; upheld by her, you fall not; shielded by her, you fear not; guided by her, you grow not weary; favoured by her, you reach the goal.

St. Bernard