Faith Formation Registration
It's time to register for Faith Formation for the 2019-2020 year!
Space is limited, so register early!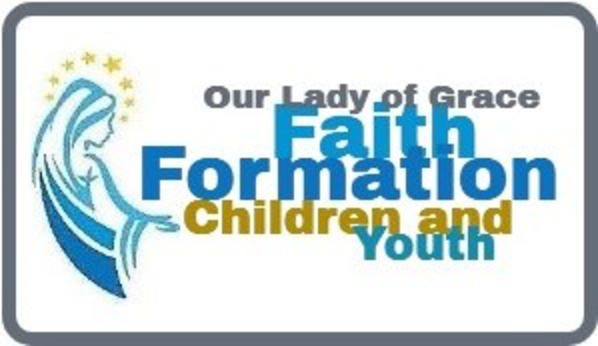 Returning families: Please enclose your pre-printed registration form and fees in an envelope marked "Faith Formation" and simply place the envelope in the offertory collection at Mass. Call or email Georgene for a registation form if you need a new one.
New families: Please call or email Georgene for a registration form.
Click HERE to send an email to Georgene,
or call the Faith Formation Office at (619) 466-5656 for an appointment.
When do classes begin?
Classes begin mid-September 2019 and go through the end of April / beginning of May 2020.
When and where do classes take place?
Kinder through Junior High gather on Sunday mornings from 9:30 to 10:45 am in the OLG School classrooms.
Senior High first and second year Confirmation Preparation youth gather on Sunday evenings about every other week after the 5:30 Mass from 6:45 to 8:30 pm. Ask for our Confirmation preparation packet for details!
Are there any prerequisites?
Level 1 is the prerequisite for Penance/Reconciliation and First Eucharist prep.
Confirmation prep is for those attending Catholic, private, public or home study grades 9, 10 or 11. Level 8 or Catholic school grade 8 is required to begin Confirmation prep.
Can I register for a home study option?
Yes, home study opportunities are available. Parents teach the lessons at home and children gather during the year for Catechist reviews.
What are the fees for Faith Formation?
Faith Formation fees are subsidized by donations from the community of Our Lady of Grace. Parent portion of the fees are as follows:
One child: $80.00   |  Two children: $115.00   |   Each additional child: $25.00
Add $25.00 for Penance/Reconciliation & First Eucharist preparation materials. 
Please note: A fee increase is planned for June 30.
Fees may be paid by exact cash, check, or credit card at the time of registration.
Make checks payable to OLG.
Fees can also be paid online. Payment receipt to be presented at registration.
Are there any other details I should know?
If not already on file, a copy of each child's Baptism Certificate is required for registration.
No student will be turned away for a lack of ability to pay a fee.
K through Level 6 parents will teach some lessons at home during the Faith Formation year.
Click 

HERE

 to send an email to Georgene,
or call the Faith Formation Office at (619) 466-5656 for an appointment.