A Message about OLG Outdoor Public Celebrations of the Eucharist
Dear Parishioners,
Good news! Public Masses are still taking place at OLG! Our Mass schedule remains unchanged. Liturgies take place in front of the church. Seating is on the grass under the shade of the trees.
Before I outline our guidelines for Mass, let me reiterate the fact that, for the foreseeable future, Bishop McElroy has dispensed all Catholics in the Diocese of San Diego from the obligation to attend Sunday Mass and holy days of obligation. To quote Bishop McElroy, "All of us must urge sick or especially vulnerable members of our community (because of age or compromised immune systems) to refrain from coming to Mass, not only for their sakes but for the sake and safety of the worshiping community." Those sheltering at home can view any number of Masses broadcast over the Internet or on television.
I invite you to keep your parish in your prayers. I will continue to keep all of you in mine.
Our Lady, full of grace, pray for us!
Fr. Peter McGuine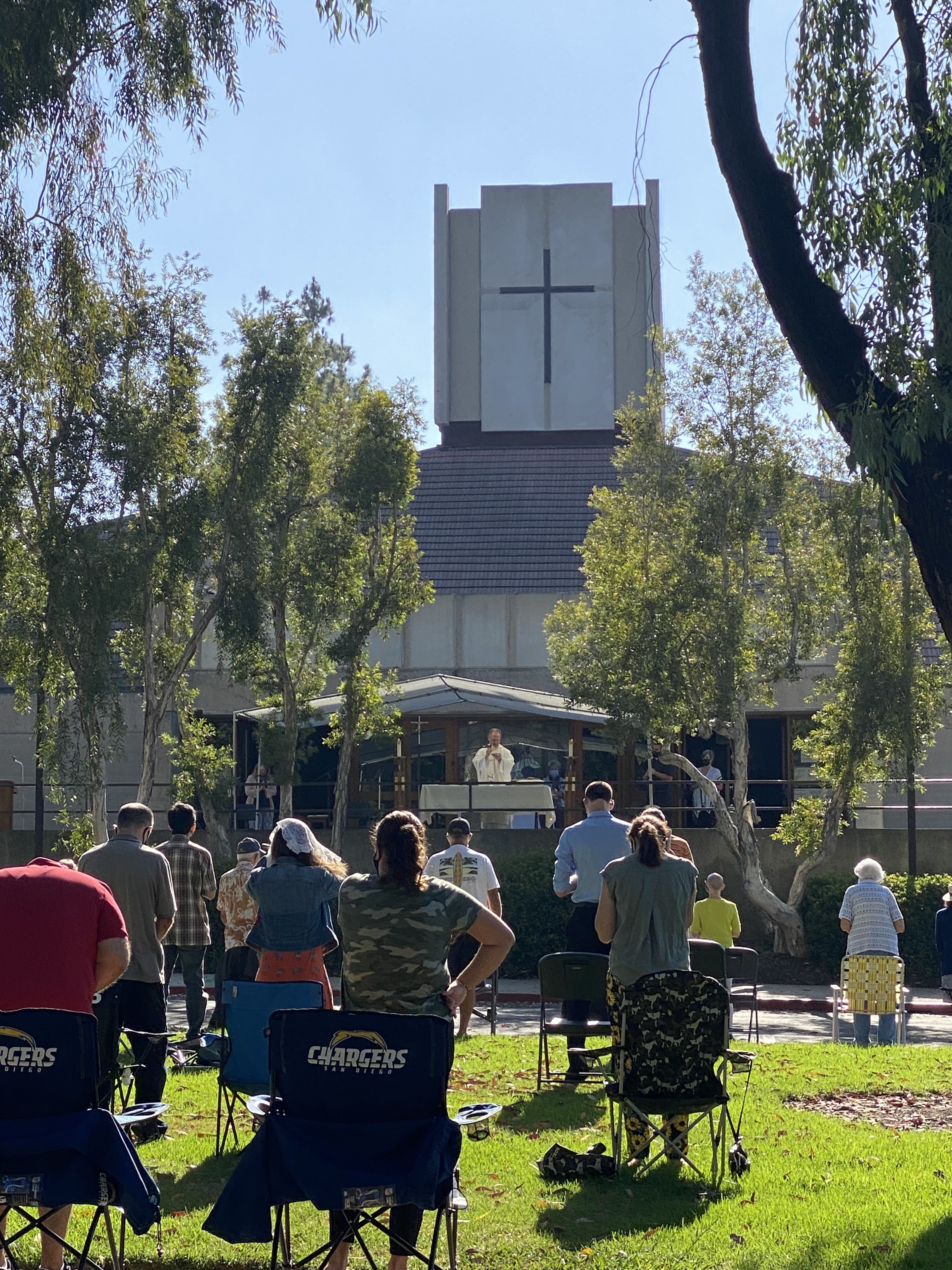 We Offer the Following Guidelines for your Safety and Comfort
Attendees must...
•    Wear a mask at all times while on campus and during Mass (all those age 2 and up)
•    Remain 6 feet apart (unless members of the same household)
•    Follow posted signage and Ambassador instructions
•    Park in the church upper parking lot or the lot in front of the school away from the front of the church and the parish office.
Attendees are encouraged to bring...
•    Lawn chair or blankets (no chairs will be provided)
•    Hand Sanitizer
•    Bottled water
•    Hat and sunscreen (no umbrellas please)
•    Remain in your seating area during Mass and follow Ambassador instructions for leaving.
And Finally...
All are advised to use the restroom at home to avoid having to use them at church, wash their hands, and bring water as the drinking fountains in the church are disabled. 
Thank you for your patience and faithfulness during this time of pandemic.